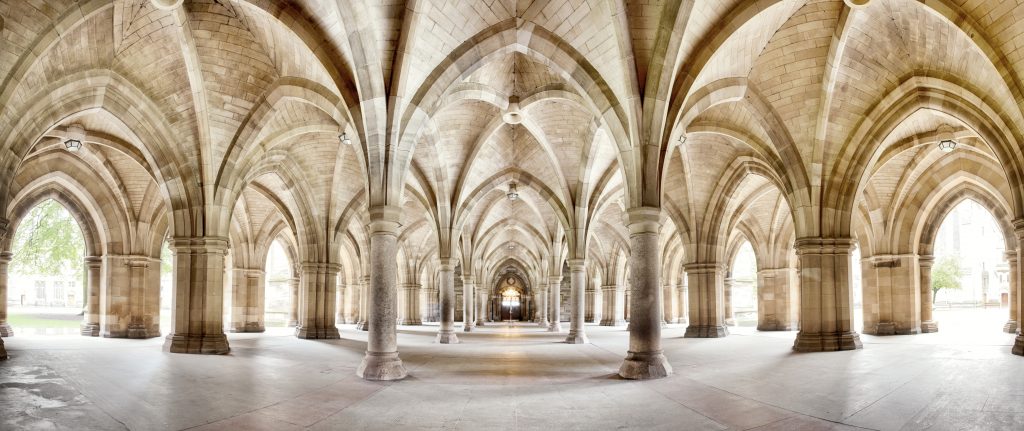 University of Macerata, 1290
Located in the Marche region of Macerata in central Italy, this university has over 11,000 students across seven faculties. The University of Macerata's main focus is on the humanities and social sciences.
One of the early public universities, the University of Perugia was founded in 1308 and was immediately recognised by the pope at the time, Pope Clement V. Before that, it had already existed as a place of study, but this recognition raised it to a studium generale. Numerous popes have studied within its walls, and it can count Luca Pacioli, the father of accounting, as one of its more well-known former faculty members. Nowadays, it has an enrolment of about 28,000 students.
University of Salamanca, 1164
The University of Salamanca was the first university founded in what would eventually become Spain, and like the aforementioned University of Valladolid, it is also located in Castile and León. While its origins are a bit hazy, teaching began here sometime around 1094, and it was officially recognised by the king of León in 1164. One particularly notable discussion to have taken place within the walls of the University of Salamanca revolved around Christopher Columbus—first about whether his proposed trip west from Spain would be feasible, and second about how he and his men should have treated the Native Americas.
University of Al Quaraouiyine
In 895 AD, Fatima al-Fihri founded a university in Morocco with funds she inherited from her father. The purpose was to spend her father's wealth on what is now known as the University of Al Qarawiynn. There's a lot of controversy about the beginnings of the University of Al Quaraouiyine. Could it really be the oldest educational institution in the world?
This ancient University began as a large mosque that grew into an Islamic School called The Madrasa. And according to many historians, it is the oldest continually operating university in the world. The institution even awarded degrees according to various levels of study. These included medicine, mathematics, Islamic studies, and more.
Fatima al-Fihri was only mentioned as a founder of the University of Al Quaraouiyine many years after her death. Some historians believe she was the driving force behind the institution. Others do not. Either way, we'd like to think that Fatima had a substantial financial and intellectual influence on this famous Morrocan University.
A few sources have claimed the college as the oldest continually operating educational institution in the world, including the Guinness World Records. The school is also on the UNESCO world heritage list.
Al-Azhar University
A few historians technically regard Al-Azhar University as the oldest university in the world. This institute of higher education was not officially recognized until 1961. However, it was established as an Islamic teaching center in 970 AD.
The Library at Al-Azhar University is considered among the most important in the Middle East. It was initially established in 1005 by the Fatimids. And this was centuries years before the Vatican Library or the Oxford Bodleian Library were established. The collection at the Al-Azhar University contains nearly 600,000 manuscripts and over 9,000 books that date as far back as the eighth century. It is utterly remarkable!
The University is Egypt's longest continually operating university and its most prestigious institution of higher learning. Around two million students belong to Al-Azhar. Its primary objective is to promote Islamic Culture. However, Al-Azhar students are also introduced to many subjects, including engineering, technology, economics, chemistry, architecture, social sciences, and several other areas of study.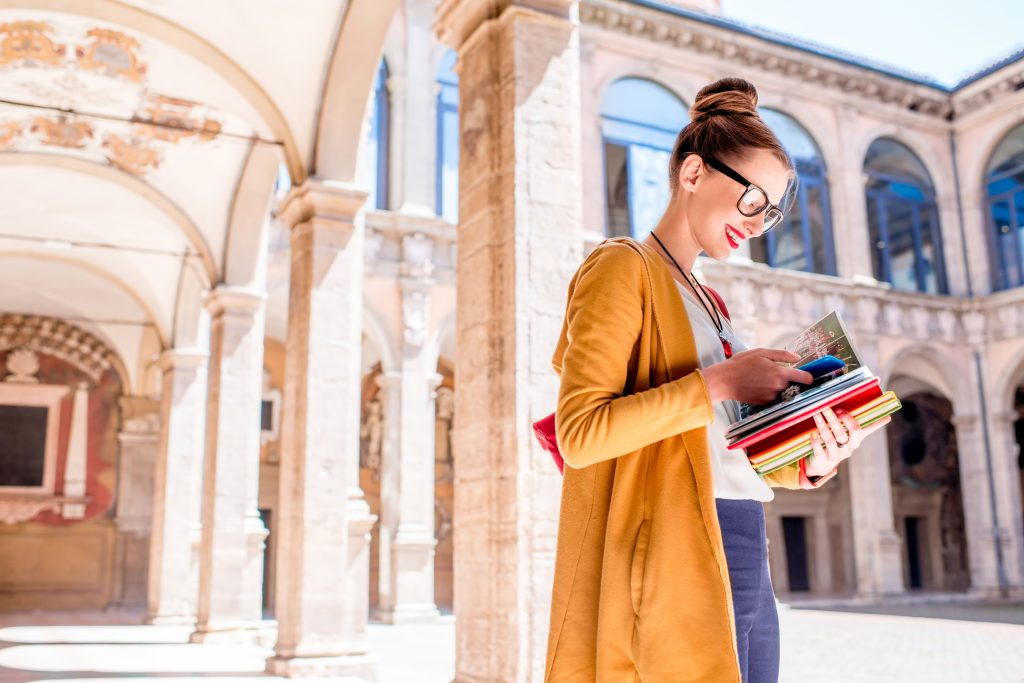 Female student in the inner yard of oldest university in the world in Bologna city in Italy
Oldest Universities: North America, South America, Oceania
After the 1500s, the European model of the modern university began to spread in other parts of the world. The British Empire and other European empires transplanted the university education model to the countries they colonized. Later on, even when old colonial systems diminished during the 20th century, the university model of education was largely kept intact in the once colonized territories.
Despite being relatively "new" versus its counterparts, experts acknowledge that the "Western model" epitomized by the American university is highly influential across the world that it comprises a combination of international influences (Altbach, 2007, 25, cited in Dakowska, 2017).
Harvard University
Harvard University is the oldest university founded in North America in 1636 and is named after its first benefactor, John Harvard. It is also the oldest institution of higher education in the United States. This private, Ivy League university is located in Cambridge, Massachusetts, which was named in honor of the University of Cambridge in England.
During its early years, Harvard University mainly educated clergymen. Its curriculum gradually became secularized in the 18th century and later on became a modern research university after the American Civil War. As of A.Y. 2017/18, Harvard reported a total student population of 36,012 students.
Universidad Autónoma de Santo Domingo
Universidad Autónoma de Santo Domingo was founded in 1538 by Pope Paul III. Located in the Dominican Republic, the university had the four traditional schools of that time namely law, medicine, arts, and theology. Due to several political turmoils, the university had to close its doors several times throughout history until it finally obtained its autonomy on December 31, 1961.
At present, Universidad Autónoma de Santo Domingo has expanded to eight schools. These are Law and Political Science, Engineering and Architecture, Economics and Social Sciences, Agricultural Sciences, Humanities, Science, Health Sciences, and the Arts. As of 2017, its total student population stood at 195,011.
University of Sydney
The University of Sydney in Australia was established in 1850 by William Charles Wentworth, an Australian explorer, author, politician, and journalist. The university is historically renowned for being one of the first universities in the world to admit students based entirely on merit and welcomed female students as early as 1881.
The University of Sydney has more than 70,000 total enrollments as of 2019. It also has the largest international student mobility in Australia with 400 exchange programs and 250 partner universities in over 40 countries.
Universities in the Future: Global Challenges
Just like any other organization or institution, universities are not immune to problems that challenge their traditional systems. As explained in Deloitte's article on the key global challenges faced by universities, geopolitical and economic factors are shifting and constantly putting pressure on these institutions to meet student expectations of better quality education at an affordable cost (Deloitte, n.d.).
In the U.S., for instance, a moderate budget for a four-year private college averaged $53,980, and $26,590 for an in-state public college (College Board, 2019). However, 80% of Americans do not believe that the typical college education is worth its cost (Deloitte, n.d.).
Universities must also incorporate emerging technologies that could help improve the teaching and learning experience, revolutionize research, and drive improved business operations against performance objectives (Deloitte, n.d.). Software such as Enterprise Resource Planning, Student Information Systems, and Customer Relationship Management are just some of the tools universities are increasingly investing in to improve their support systems for students and constituents.
Global competition is also pushing university boards to rethink their business models and establish a compelling competitive advantage in order to increase student recruitment for both local and international students. There is also the need to attract the best talents not only to build a diverse workforce but also to have a good team of academics with the right disciplines and expertise who can bring research income and boost global rankings for the institution (Deloitte, n.d.).
All these challenges make us wonder how will universities in the future look like. We can only propose the idea that similar to the oldest universities that continue to survive to this day, agility and adaptability will be the key characteristics a university needs in order to remain relevant in the centuries to come.
Source:
https://theculturetrip.com/europe/italy/articles/the-12-oldest-universities-in-the-world/
https://www.nonprofitcollegesonline.com/10-oldest-universities-in-the-western-world/
https://research.com/universities-colleges/oldest-university-in-the-world